Top 5 Video Editors For Ubuntu 22.04
Hello everyone, how are you all doing today? I hope you are all having a great start to your week. My Monday is going fine right now. After this post, I will go to take a 10-15 minute break and run around with my dogs outside or have a cup of tea. Leaning towards that tea right now lol anyway read on…
Today we will focus on one of the most demanded topics on our web site. We have received in total about 90 emails(87 to be exact) demanding or rather requesting that we should list some of the best Video editing software for Linux/Ubuntu/Mint. I am not one to disappoint so we have done just that. I am a video editor myself, even though right now I do most of my video editing on my Macbook(don't judge me) I do want to make the switch back to editing on my Ubuntu OS, this list should help those of you who are in the same situation, enjoy.
Blender is the free and open source 3D creation suite. It supports the entirety of the 3D pipeline—modeling, rigging, animation, simulation, rendering, composting and motion tracking, even video editing and game creation. Advanced users employ Blender's API for Python scripting to customize the application and write specialized tools; often these are included in Blender's future releases. Blender is well suited to individuals and small studios who benefit from its unified pipeline and responsive development process. Examples from many Blender-based projects are available in the showcase.
Blender now features a powerful new unbiased rendering engine called Cycles that offers stunning ultra-realistic rendering.
The built-in Cycles rendering engine offers:
GPU & CPU rendering
Realtime viewport preview
HDR lighting support
Permissive License for linking with external software
Blender App Screenshot
Natron is a free open-source, cross-platform compositing software. It aims to produce visual effects.
32 bits floating point linear colour processing pipeline.
Colorspace management handled by the famous open-source OpenColorIO library.
Dozens of file formats supported: EXR, DPX,TIFF, JPG, PNG…thanks to OpenImageIO. and FFmpeg.
Support for many free and open-source OpenFX plugins:
TuttleOFX : A suite of about 80 plug-ins made by a french studio named Mikros image.
OpenFX-IO to read anything else than standard 8-bits images
OpenFX-Misc : A set of basic nodes, such as Transform, chroma keyer
OpenFX-Yadif deinterlacer : An open-source efficient de-interlacer.
OpenFX-Vegas SDK samples
OpenFX samples (in the Support and Examples directories)
Smooth & accurate zooming/panning even for very large image sizes (tested on 27k x 30k images). Real-time playback: Natron offers a real-time playback with best performances thanks to its RAM/Disk cache technology. Once a frame is rendered, it can be reproduced instantly afterwards, even for large image sizes. Low hardware requirements: All you need is an x86 64 bits or 32 bits processor, at least 3 GB of RAM and a graphic card that supports OpenGL 2.0 or OpenGL 1.5 with some extensions. Animate your videos: Natron offers a simple and efficient way to deal with keyframes with a very accurate and intuitive curve editor. You can set expressions on animation curves to create easy and believable motion for objects.
Natron App Screenshot
Kdenlive is an intuitive and powerful multi-track video editor, including most recent video technologies.
Support for a wide range of camcorders and cameras, including:

Low resolution camcorder (Raw and AVI DV editing).
Mpeg2, mpeg4 and h264 AVCHD (small cameras and camcorders).
High resolution camcorder files, including HDV and AVCHD camcorders.
Professional camcorders, including XDCAM-HD™ streams, IMX™ (D10) streams, DVCAM (D10) , DVCAM, DVCPRO™, DVCPRO50™ streams and DNxHD™ streams (decoding only, encoding untested). Please note that Kdenlive does not offer the original codecs, but only that we use FFmpeg free software codecs, which can read original streams and sometimes export as well. When you own a camcorder, there is no reason why you should not be able to read your own films.

Multitrack edition with a timeline and unlimited number of video and audio tracks.
Video and audio tracks organized in layers.
Tools to create, move, crop and delete video clips, audio clips, text clips and image clips.
Configurable keyboard shortcuts and interface layouts.
A wide range of effects and transitions. Ability to add custom effects and transitions.
Non-blocking rendering using a rendering separate application. Stop, pause and restart rendering. Continue to work on your project without any possible loss of data.
Export to standard formats:

DV (PAL and NTSC).
Mpeg2 (PAL, NTSC and HDV) and AVCHD (HDV).
High quality h264.
Non-destructive formats.
Kdenlive App Screenshot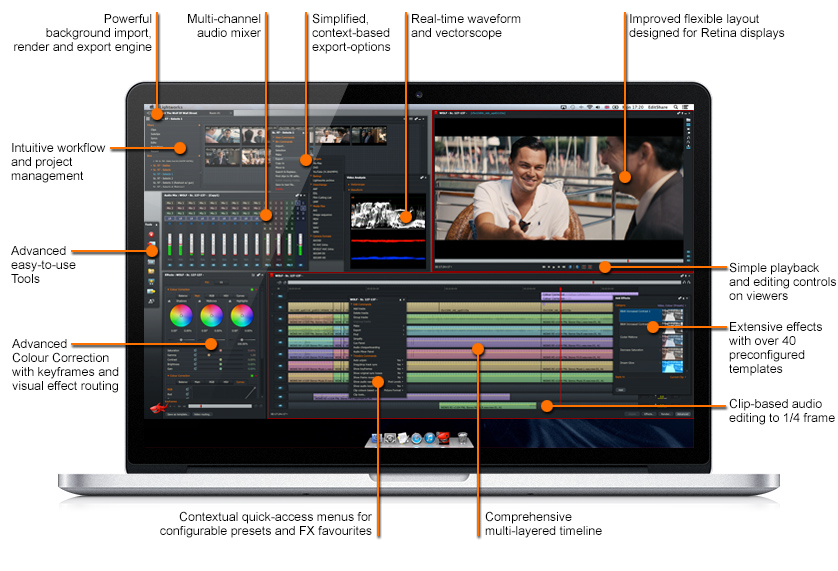 Whether you are running Windows, Linux or Mac OS X, the power of Lightworks will be right at your fingertips. Now you can use your operating system of choice without impacting on the work you need to get done. No other editing software out there runs on all three platforms.
Lightworks has the widest format support available in any professional NLE. MXF, QuickTime and AVI containers, with almost every format you can think of importing natively without the need for transcoding, from ProRes, Avid DNxHD, AVC-Intra, DVCPRO HD, RED R3D, DPX, AVCHD (with AC3 audio), H.264, XDCAM EX / HD 422, all on the same timeline in realtime. Check out the detailed Tech Specs for a full list of supported formats.
Resolution, format and codec independent timeline
Edit at 23.976, true 24, 25, 29.97, 30, 50, or 60 fps
Advanced realtime Multicam editing with unlimited sources (Subject to hardware and storage capability)
Source/Record three-point editing
Insert and Overwrite editing
Replace, Fit to Fill, backfill
Drag-and-drop replace editing
Extend and Split edits
A/V Sync indicators on timeline
AutoSync – Single-click re-sync of whole timeline
Multi-colored markers for edits and clips
Matchframe for clips and subclips
Storyboarding – arrange tiles in Bins, adjust in and out points and convert to an edit with a single click.
Lightworks App Screenshot
OpenShot Video Editor is a free, open-source video editor for Linux. OpenShot can take your videos, photos, and music files and help you create the film you have always dreamed of. Easily add sub-titles, transitions, and effects, and then export your film to DVD, YouTube, Vimeo, Xbox 360, and many other common formats.
Support for many video, audio, and image formats (based on FFmpeg )
Gnome integration (drag and drop support)
Unlimited tracks / layers
Clip resizing, scaling, trimming, snapping, and cutting
Video transitions with real-time previews
Compositing, image overlays, watermarks
Title templates, title creation, sub-titles
3D Animated Titles
SVG friendly, to create and include vector titles and credits
Scrolling motion picture credits
Solid color clips (including alpha composting)
Support for Rotoscoping / Image sequences
Advanced Timeline (including Drag & drop, scrolling, panning, zooming, and snapping)
Frame stepping (key-mappings: J, K, and L keys)
Video encoding (based on FFmpeg )
OpenShot App Screenshot
Quick Links: Best Ubuntu Software & Microsoft Office Alternatives On Ubuntu