Download Czkawka for Ubuntu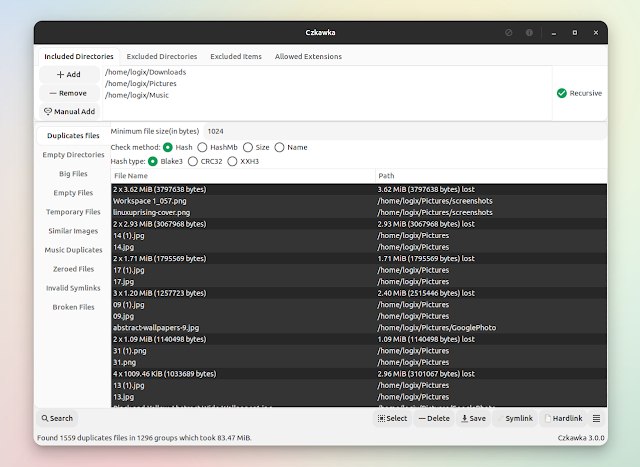 Hello everyone, you can download Czkawka for Ubuntu and experience one of the most useful tools that helps you locate missing files, duplicate files including duplicate music and video files. You can also find empty files, folders, temporary files, broken files, Invalid symlinks and even name conflicts, it's basically a handy tool that should probably come included in the default Ubuntu or Linux OS if you ask me.
Below you will find some screenshots and features list of Czkawka, I can barely type that name, apparently it is Polish and it stands for 'Hiccups' which is appropriate somewhat to what the app can do for you on your Linux computer. I just installed about 2 hours ago and it does exactly what it is supposed to do, I prefer the GUI enabled version for quicker and easier access but for those of you who want to use it 'manually' via terminal, that is also an option but I recommend the GUI version for beginners or pros alike if you want to do things a bit faster and see exactly what is being affected before you execute. Let us know in the comments what you think about this neat little program. Is it helpful? What needs to change? Is FSlint still somehow better?
Install Czkawka on Ubuntu
Manually Install Czkawka via Terminal
sudo add-apt-repository ppa:xtradeb/apps
sudo apt-get update
sudo apt-get install czkawka
What is Czkawka?
Czkawka is a fast (multi-threaded) application to find and remove duplicate files, invalid symlinks, similar images, and more. Czkawka is very fast and feature rich cleaner which helps you find file duplicates, empty folders, files, duplicated music, similar images or the biggest files in selected directories. This program is written in Rust and the frontend is written in GTK 3.
Czkawka Features
Invalid Symbolic Links
Broken Files
Empty Folders
Empty Files
Duplicate Files
Similar Images
Music Duplicates
Temporary Files
Zeroed Files
Czkawka Screenshots