Download Tangram for Ubuntu
Hello everyone, you can now download Tangram for Ubuntu and Linux to experience a new and interesting way to browse the web, yes I know I said, "interesting", you will find out soon.
Today we highlight some reasons why we think you should give this app a try on your Linux operating systems. I am not going to lie, when I heard about this app about a month or so ago, from what I was reading about it on the internet, it didn't seem all that interesting(there is that word again). I thought, why would I need to try yet ANOTHER web browser when I already enjoy the likes of FireFox, Chrome, and heck I even like Microsoft Edge now. Long story short, I decided to try Tangram regardless and I am low key glad that I did. What makes this browser interesting is that it is "designed to organize and run your Web applications. Each tab is persistent and independent. You can set multiple tabs with different accounts for the same application." Yeah, I know, it just hit me when I first used it how useful that can be. I am sure the major browsers will somehow incorporate this into their browsers as long Tangram continues to grow. I know what you are thinking, this is like incognito mode, yes sort of, except your browser history is saved and it acts like a normal window, anyway, I think those of you who like to open multiple tabs with multiple accounts on the web services or website you use, then this app might be for you. Let us know in the comments what you think about if you decide to try it.
Install Tangram on Ubuntu
Download Tangram on Linux via Flathub
What is Tangram?
Tangram is a web browser that works on your Linux/Ubuntu and it is a unique web browser that has been designed to efficiently manage and run your web applications. Its persistent and independent tab feature allows you to set multiple tabs with different accounts for the same application thus keeping up-to-date with your favorite online communities such as Mastodon, Twitter, etc. You can also put all your chat applications into one place, including WhatsApp, Messenger, Telegram, and whatever else you use.
Features:
Fast and lightweight: Tangram is designed to be a fast and lightweight browser, which can help to improve your browsing speed and reduce system resource usage.
Privacy-focused: Tangram includes a built-in ad blocker and blocks third-party trackers by default, which can help to protect your privacy while browsing the web.
Open source: Tangram is an open-source browser, which means that anyone can access the source code and contribute to the development of the browser.
DNS-over-HTTPS support: Tangram includes support for DNS-over-HTTPS, which can help to encrypt your DNS requests and prevent ISPs and other third parties from monitoring your online activity.
Tab groups: Tangram includes support for tab groups, which can help to keep your browsing organized and make it easier to manage multiple open tabs.
Tangram Screenshot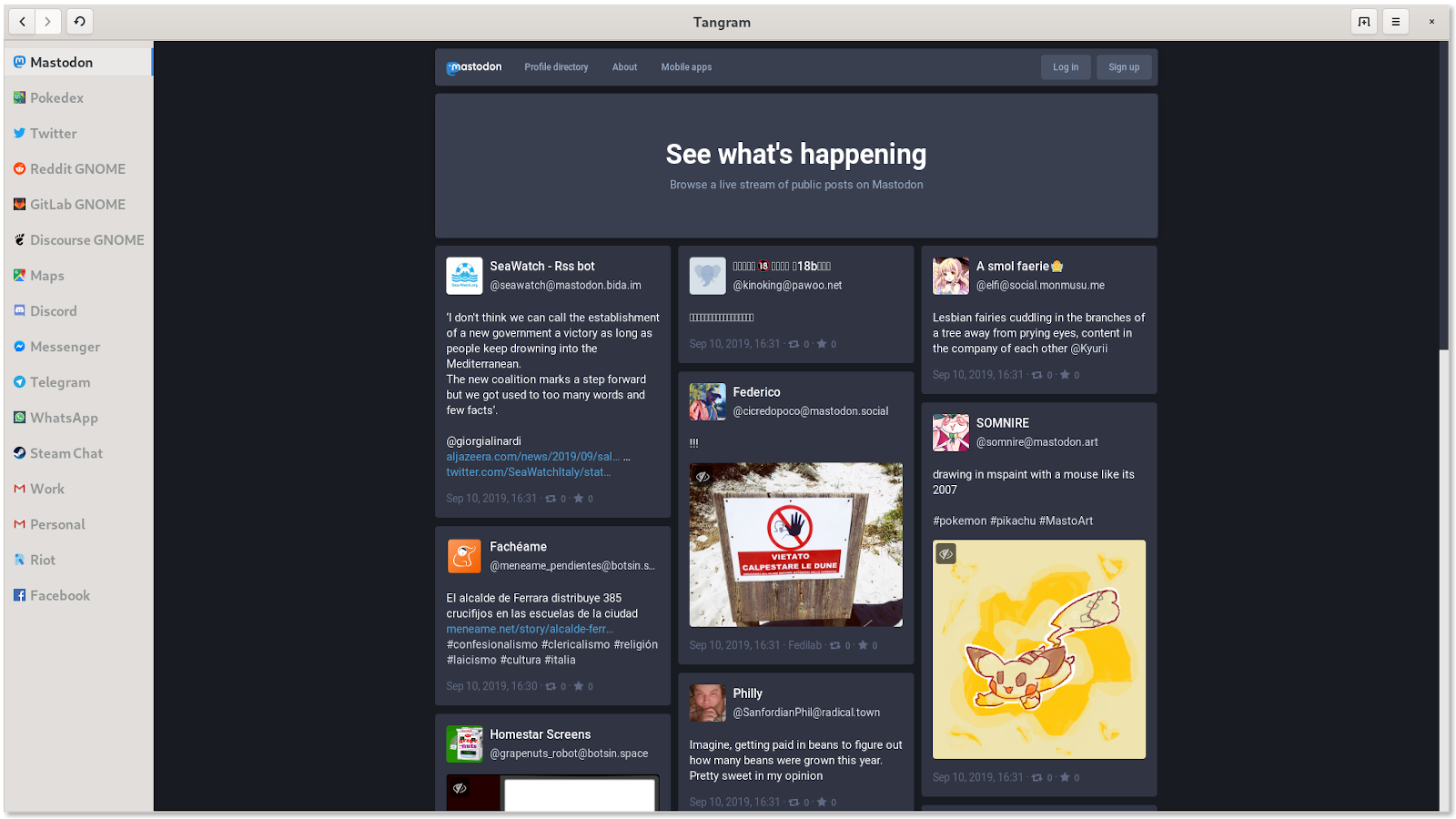 Tangram Video