Download Kodi for Ubuntu
Hello everyone, you can download Kodi for Ubuntu, before you do that, I hope you are all doing great and I know you will enjoy this app if you have never tried it. It's an awesome and very popular software that people use for various reasons and we will list of them down below.
Today we will feature one of the most popular media apps ever created and I say that with confidence. I was doubting like most of you who are reading this who might not have heard of Kodi but this app is a top 5 download on most operating systems including Windows, iOS, Mac, Android etc. Finally it has been ported to work on Linux/Ubuntu! We have both the Snap version and the regular version for you to choose from. Of course as we type this, Kodi for Linux is still in beta but you only really have to worry of finding some bugs if you use the Snap version but even that version is not that bad, 80%+ people using the Snap version of Kodi say it is working just right.
Install Kodi on Ubuntu
Install Kodi via Terminal Commands
sudo apt install software-properties-common
sudo add-apt-repository -ysP team-xbmc/ppa
sudo apt install kodi
Install Kodi as a Snap App
snap install kodi --edge
What Is Kodi About?
Kodi is an open-source media center app that's been developed and built out over the past decade. Its latest build is one of the most complete media centers you'll find, allowing you to consolidate all your media; videos, music, and photos into a single destination with a customizable interface that's both stylish and easy to use.
There's also a bunch of third-party add-ons available within Kodi, which grant you access to all sorts of streaming options from around the world.
Kodi Screenshot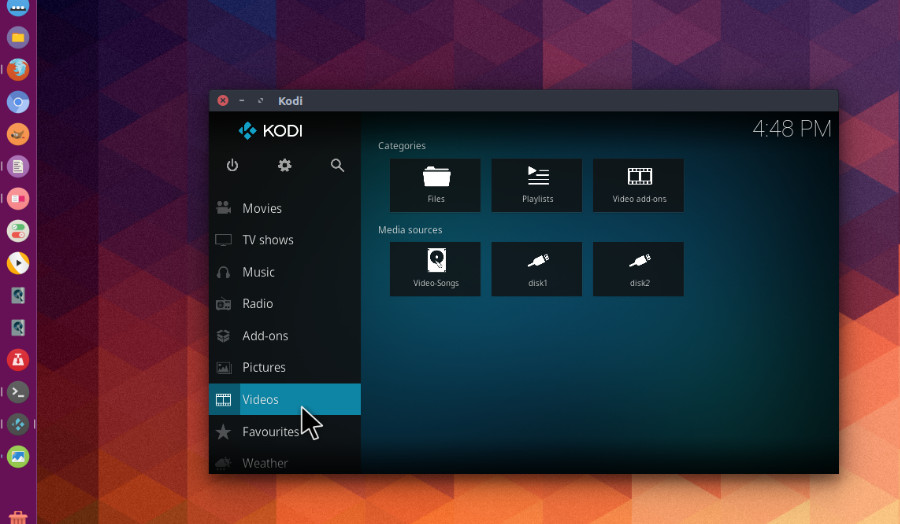 Kodi Video