How To Install Ubuntu On Windows 7
[mwm-aal-display] Hello everyone, on this page you will learn how to install Ubuntu on Windows with Wubi.  Before we begin, let's first learn a little bit on what is Wubi and how it works with your Windows 7 operating system.
What is Wubi?
Wubi is an officially supported installer for Windows XP, Vista and 7 users that allows Ubuntu to be installed and uninstalled in a safe, easy way as with any other Windows application/program.
How to Download Wubi?
To download Wubi, which works up to version 13.10 Ubuntu you must click here. Wubi is only around 2.4mb in size.
How to Install Ubuntu With Wubi
Run Wubi.exe, insert a password for the new account, adjust other settings such as the disk space, and click "install".
The installation process from this point on is fully automatic.
The installation files (approximately 700MB) will be downloaded and checked, after which you will be asked to reboot.
Do so and select Ubuntu at the boot screen. The installation will continue for another 10 to 15 minutes and the machine will reboot again.
That's it. Now you can select Ubuntu at the boot screen and start using it. Simple right?
Important: When you reboot your computer, you can choose to run Windows or Ubuntu from your boot manager.
 How to Uninstall Wubi
You uninstall it the same way you would any other windows program. In Windows go to the control panel and select "Add or Remove Programs", then select Wubi/Ubuntu and uninstall it.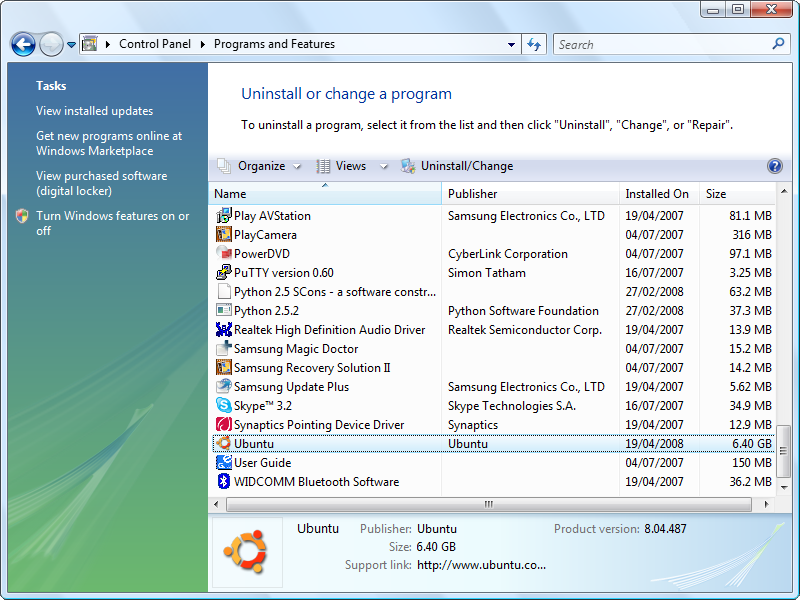 Bonus: You can also use the uninstaller that you find in the installation folder.
---
Install Wubi On Windows Video
Note: We have to remember that Wubi is no longer supported by the official Ubuntu Team because it causes a lot of issues especially in regards to hard shutdowns so Wubi only works up to version 13.10 of the Ubuntu OS.