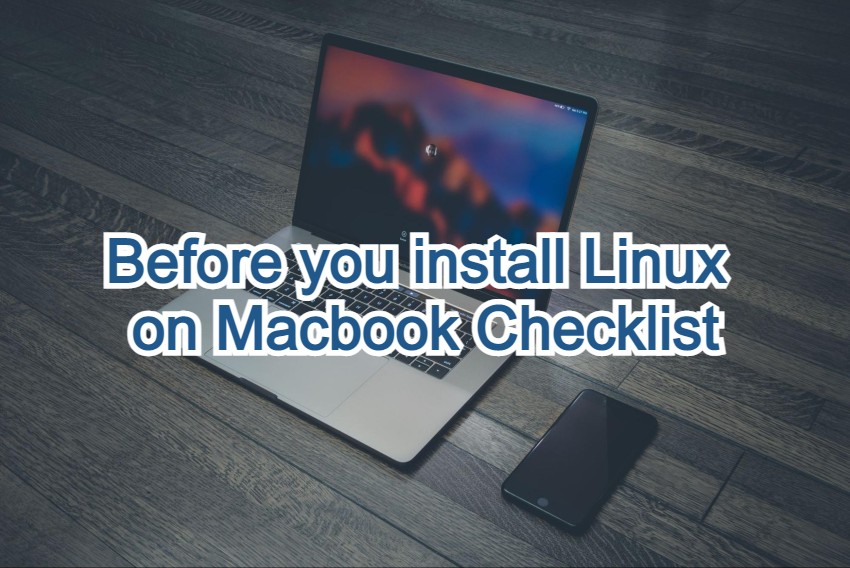 Hello everyone, ever wondered how to install Linux on a Macbook? A lot of you surely must have wondered, maybe randomly but you I know I can't be the only one that thought of this. With the robust and powerful Mac hardware, it would only make sense to run a *real OS on it, right?
MacBooks are great for more than just running macOS. Some people install Ubuntu to expand available software options, learn what it feels like using a different operating system, or because they are a Linux developer and think that Macs are the best platform.
While the two operating systems have their differences, and macOS is the default choice, after a while, you will find that Ubuntu comes with its own advantages.
Installing Ubuntu is a bit tricky, so you should keep in mind that undertaking this project will require patience and time. 
One other thing to note is that installing Linux on MacBook Pro (2018 and later) with an internal solid-state drive is not possible. If you have this Mac model, you will need to use an external hard drive.
Potential Issues on installing Ubuntu on a Macbook
You may run into issues and will be forced to reinstall macOS and its data. Therefore, it is recommended to backup your MacBook's files. You can invest in an external hard drive or memory stick and combine the device with Time Machine.
Or, as an alternative, transfer files to iCloud. The default iCloud plan offers 5 gigabytes of storage, which is usually not enough to back up all MacBook files. You will likely need to get an upgraded plan for a monthly fee to fit the data.
Now, as for the installation issues. There are two main problems: making sure that the installer is compatible with the MacBook and working correctly, and finding all the drivers to have the MacBook running after Ubuntu is on the computer.
Necessary Things to Install Ubuntu
Installing Ubuntu on a Mac would be impossible without several things. The list of necessary items are the following:
The latest stable Ubuntu version
As you can expect, you will have to use the latest Ubuntu version if you want to install it on a MacBook. To get the latest version, check the official Ubuntu website.
Ubuntu requires about 25 gigabytes of storage for its desktop version. Since you want to install Ubuntu on a MacBook, you might need to put some effort into freeing up the space, given how lackluster Mac's storage can be.
For an added benefit, you should free up more than 25 gigabytes of space because pushing it to the limit would likely cause unnecessary problems.
Even though you are using a MacBook, you should still get a USB-based mouse and a keyboard for some peace of mind because the Ubuntu Bluetooth drivers will also need to be installed before you can access a wireless keyboard or a mouse. Be sure to remember that.
A USB flash drive is one of the key components while installing Ubuntu on a MacBook. The device is used as a bootable installer, and it contains both the basic installer and the latest live version of the operating system.
Having a bootable USB flash drive installer with the live version will let you find out whether the MacBook is actually compatible with the new operating system in Ubuntu.
A compatible MacBook model
Speaking of compatibility, a MacBook should have at least 2GB of RAM and a 2GHz dual-core processor to optimally run the Ubuntu operating system on it. Of course, it helps if the model has better hardware, as it would make the installation smoother.
On the other hand, you should not underestimate an older Mac model. It is still possible to install Ubuntu even if your laptop is pretty lackluster hardware-wise. However, during the installation, pay attention to how the process is like on older hardware.
In case you encounter an issue while trying to install Ubuntu on your old Mac, check Ubuntu forums for installation guides. There should be one or two sources that cover the Ubuntu installation for your Mac model. 
Like already mentioned, it is important to back up the current MacBook data. An external bootable drive with the MacBook's files functions as a safety net if something goes wrong with the Ubuntu installation on your computer.
Ubuntu Partition on MacBook
Those who are happy with Ubuntu on their Macs might consider installing the operating system permanently. For that, you will need to create an additional volume on the MacBook's drive to accommodate Ubuntu. 
The process is pretty straightforward: use the Disk Utility tool to separate an existing space volume into two. An external hard drive, dedicated to Ubuntu, is one of the available choices as well.
Conclusion
All in all, this article should give you a general idea of what you can expect if you wish to install Ubuntu on your Mac and see how it fares. If you are happy with the new operating system, you can continue using it. And if you are not, going back to the original is still an option.