Download Draw & Guess Game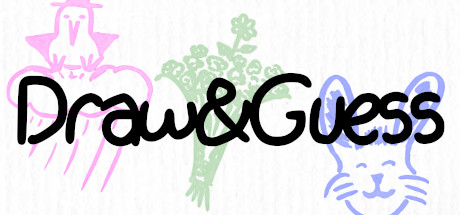 Hello everyone, you can download Draw & Guess for Ubuntu and play one of the most interesting and certainly unique games out there available on Steam.
Today we will highlight some reasons why we think you should go ahead and give this game a go. Draw and Guess is a game you can certainly label as 'casual'. It published and developed by an indie company known as Acureus and I have to admit, they did a pretty good job with this game, don't let the screenshots fool you below, the game looks polished even if you can't draw worth a lick. The main point of this game is to keep you busy as you can choose to play online with plenty of people online, perfect game to keep you indoors during this pandemic era we are all in. I have just been playing it for the past hour or so, the instructions are straight forward, you draw something and let people guess what it is or you can be on the other end and you will have to guess while people draw whatever it is they are supposed to draw. You might think the game would get repetitive fast but not really, the game comes packed with tons of different game mods and of course you can also choose to access the Steam workshop for this game.
Unfortunately as most of you know by now, most good games are not free. The prices vary so by the time you are visiting the link, it might change. With that said, let us know in the comments below what you think about this game once you decide to try it.
Install Draw & Guess on Ubuntu
Download Draw & Guess for Linux via Steam
What is Draw and Guess Game About?
Draw & Guess is a casual and creative drawing game for 2-16 people (or 4-16, depending on the game mode).
Each player receives a word and draws it without using characters or numbers. The next player guesses the word behind the drawing. Then another one draws it again. The cycle continues and if the first word is correctly guessed by the last player, that's a trophy.
After three rounds, the player with the most trophies wins.
Draw and Guess is currently available in multiple languages with hundreds of family-friendly words to draw per language! It is also very useful to practice vocabulary of new languages.
Draw & Guess Features:
Play the classic way with one color, or use multiple colors.
Activate the Speed Mode for an additional challenge.
Invisible Mode; allows you to have to draw while your strokes turn invisible.
Draw & Guess Gameplay Screenshot
Draw & Guess Gameplay Video
Draw & Dress Linux Requirements
OS: Ubuntu 18.04 or newer
Processor: i3 or newer
Memory: 4 GB RAM or greater
Graphics:

Graphics card with DX10 (shader model 4.0) capabilities

Network: Broadband Internet connection
Storage: 5 GB available space or more
Sound Card: Any