Meet Canonical at MWC Barcelona 2023 | Ubuntu
Another Mobile World Congress is just around the corner and our team at Canonical is excited to join the world's largest and most influential connectivity event once again.
Telecommunications is a key area for Canonical, and we are committed to providing a best-in-class experience of using open-source software to enable mobile operators, network function developers and network equipment providers to scale and innovate efficiently.
Our team of experts will be there, ready to meet you for some interesting discussions. 
Hot Topics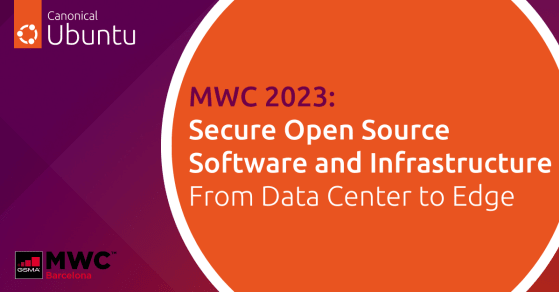 Overview
OpenRAN, distributed infrastructure and AI at the edge are amongst the key topics for this year's MWC. Join us to hear more about solutions such as: 
OpenRAN – highly distributed open source infrastructure automation and deployment
Canonical's real-time kernel for Intel FlexRAN and hardware accelerators
Lifecycle management of Kubernetes substrates across private and public clouds for private mobile and macro network…