Cheap Linux VPS Hosting Providers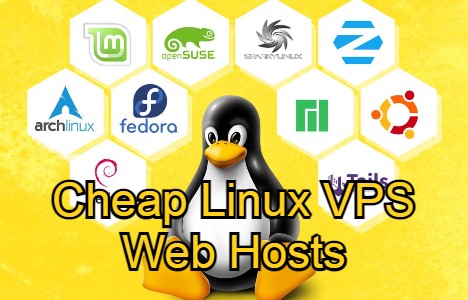 Hello everyone, you can browse Cheap Linux VPS Web Hosts, before you do that, I do hope you are all having a great day so far. For some reason today I just want to relax despite having a ton of things to do, I really wish I could just take this day off too, we really, like honestly, really should consider adding an extra day to the weekend, anyone agree? Lol anyway, please read on…
Today I will list the top cheap VPS web hosts to try. Of course everyone these days tends to look for a VPS server before they jump on a dedicated server, myself included and I will list some of the reasons below on why that is a good idea, let's begin.
Why choose a VPS Server instead of a Dedicated Server?
Well, let's be honest here, a VPS is suppose to be cheaper than a full dedicated server, this alone is enough reasons for most of us on why we might choose a VPS deal instead of a cheap Linux Dedicated server. But lets go a little deeper than that, let's bring out some facts. First of all, what is a dedicated server? A dedicated server is exactly what it sounds like. The entire physical server is yours to use, and yours alone, you can do pretty much anything you wish with the server. This includes abilities like:
Manage the actual hardware.
Maintain control over the storage.
Monitor and manage the server however you like.
Alright, now, what is a VPS? Virtual private server is a server that runs software in a virtualized environment that customers/users share hardware and storage. Meaning, your site will occupy a virtual machine on hardware that's also hosting other sites. Many virtual servers run on a single physical server, yet share their:
Share Processors/Cores – VPS customer/client can always choose to get more cores.
Share Memory/Ram – but, each VPS client/customer has the ability to upgrade their own ram.
Share Storage – but, a VPS server can easily have multiple TBs of hard drive space to share.
BUT!! You will rarely (if ever) see any evidence that this sharing exists. That's because hosting providers isolate your VPS from the other virtual servers with which you share a physical server. Anyway, that's enough of the introduction, check out the list below and let me know if we should add/remove certain hosts by contacting us.
A2 Linux VPS Hosting is an ideal bridge between shared hosting and dedicated servers. VPS plans can be completely customized to match your specific hosting needs and upgraded anytime as your site grows. It's a great way to start small but still have the ability to scale up very quickly.
With full root access, you're able to install advanced software and completely customize virtually anything as if your VPS were a dedicated server without the cost of one. For easy administration, cPanel is available.
UNLIMITED

Domains

UNLIMITED

Sub Domains

UNLIMITED

Email Accounts

UNLIMITED

MySQL Databases
WEEKLY

Off Site Backups

UNLIMITED

FTP Accounts

FREE Site

Site Builder Software*

PRIVATE

Name Servers
FULL

Root Access

24/7/365

Award-Winning Support

FULLY

Managed (w/ cPanel)
Choice of 2-4 cores and 4-16GB of RAM
Redundant storage and optional Sitelock security
Seamless switching from BlueHost shared plans
Endorsed by WordPress itself as their host of choice
Get 50% off your first month
extreme performance
Using open source technology like OpenStack and KVM, we offer VPS that is both powerful and easy to use. And by building our servers with state-of-the-art components, we unlock truly breakthrough speed.
instant provisioning
Get up and running in seconds. Whereas most VPS solutions take hours or days to activate, we designed our VPS servers to provision immediately. Use your server the very second you need it.
guaranteed resources
By utilizing only high-performance components, your websites always perform at optimal levels. And thanks to our implementation of KVM hypervisor, your resources are guaranteed to be available at all times.
Webhostpython VPS plans can be upgraded effortlessly on the fly at anytime, giving your business room for growth while keeping your overhead costs down and maximizing your profits.
They also offer the optional deployment of these VPS with cPanel and the NginX webserver, full MySQL, XCache, InnoDB, MyISAM, and php optimization with personal routine tweaks to take your performance to another level. They can configure your VPS to be specifically optimized for WordPress, resulting in blazing fast loading speeds for your blog based websites regardless of the amount of traffic you receive.
Many providers offer VPS Hosting on old dated hardware. Webhostpython uses high end powerful hardware. Others use Virtuozzo/OpenVZ virtualization technology. They offer KVM virtualization which results in resources that are 100% dedicated to you and not shared with others.
RAID10 Storage
Your data is written across multiple hard drives, resulting in faster performance and pure data protection.
Perform your own OS Reload
We believe in giving you the power to make your own choices for your business and are here to help.
KVM Virtualization
All of our VPS's come with KVM virtualization. This means all resources are dedicated to you, not shared with others.